Industrial roots are obvious in the Manchester Skyline.
I often think of it as sooty black because my most vivid memories are from childhood when much of it was. Nowadays red brick and slate dominate the Manchester Skyline. Like the court house in the foreground. Along with a lot of glass and steel and other shiny building materials. Like many urban skylines, there's a hint of industrial past and lofty ideals.
At street level it's hard to get a sense of the Manchester Skyline,
But approach the city from Salford or Rochdale on a clear day and you see distinctive tall structures. As more tall buildings appear in cities, the sense of space found in a skyline view, is available to increasing numbers of residents and visitors. Like this view, from a Hotel near Piccadilly Station. The dominant buildings are
Manchester's Skyline is changing as buildings expand ever upward, but, there is a sense of civic pride in the buildings that house local government.
The original Court buildings have been expanded with the glazing over of the courtyard.
But they still retain their distinctive Victorian facade. Here's the finished painting.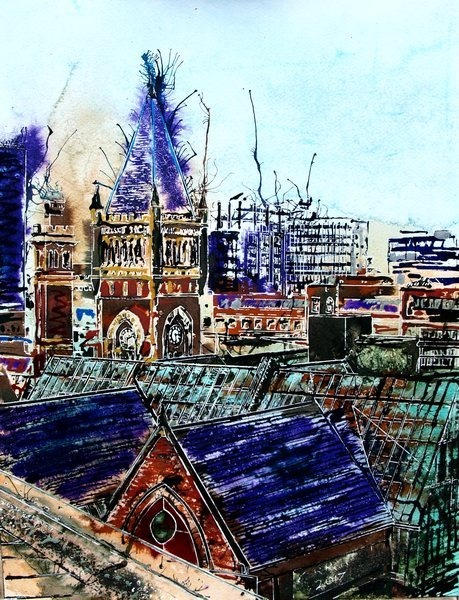 You can see how the painting emerged in this stop motion video.
(There is no sound.)

You can see more videos on my Youtube Channel.
Save
Save
Save