Landscape Painting often involves plein air sketching.
That translates as "painting outside" to the average person. I have done landscape paintings and sketched outside in the past and will do so in the future. But there's nothing quite like painting in the studio.
Especially when you work in watercolour and it's wet and windy outside. I'm often asked whetherI paint in situ, and yes I do.  In fact I'll be sharing my last excursion to the House of Commons with you quite soon. But mine is not a technique that lends itself to outside work. I can do the drawing part at an easel fine.
It's when I start the painting I have issues. First, I have to paint flat. Many effects my work relies on would be lost if I inclined the surface. I'm not averse to drips, but I want the ink to move in many directions.
You can see in this landscape painting of London in progress. Notice how the ink goes up? gravity wouldn't let me do that.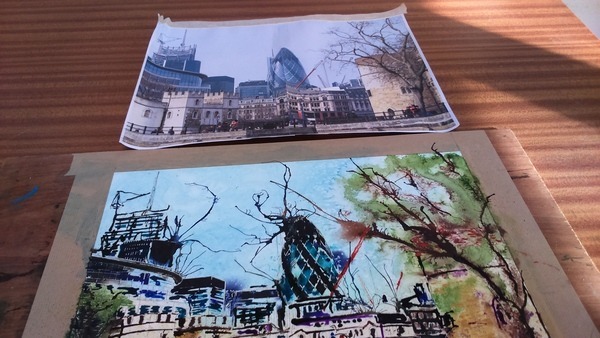 Then there's the salt and blooms I use to create effects.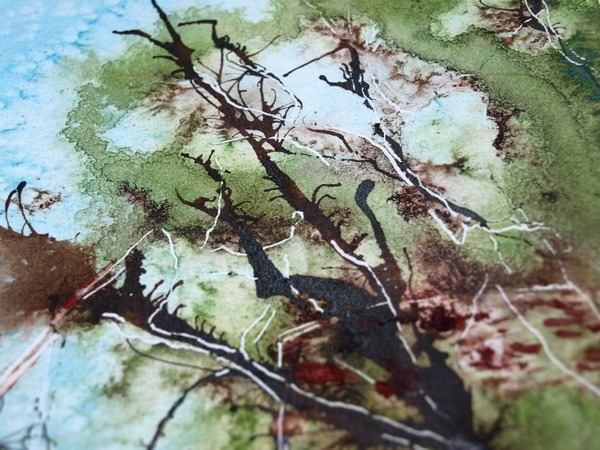 These take time to form. Jostling them around, to take them home, would disrupt the process. Besides have you tried taking a painting home flat on the underground or on a train? Or even just to a car park? And I've yet to find a Pochade Box that will do the job.
There's also the fact that for the tendrils to form when I blow the ink around…
The picture has to be bone dry.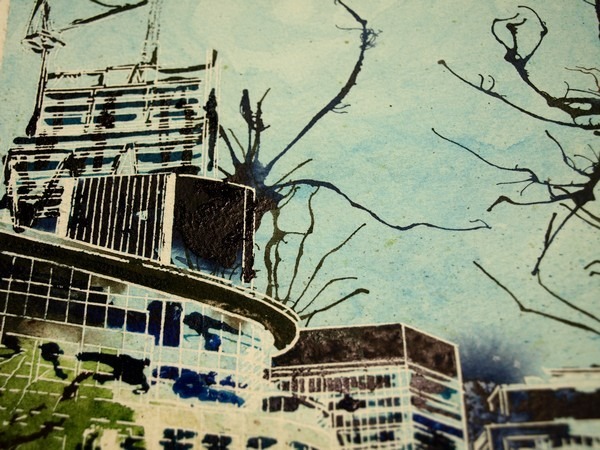 I also tend to work big where I can.
This one is 30 x 40 cm on a board about 45x 55cm. That requires careful handling to keep it flat. Now image bigger… 2x… 3x…
Get the picture?
But the biggest reason I like to work indoors is?
I like it!
Yep, I love my studio, I don't have to lug stuff around. Things dry properly. I can work on more than one painting at once. Plus, I haven't yet figured out how to be in 3 places at once so I can work on different Landmarks at the same time. This one was done with one of Beaconsfield and Fleet Street
Here's the finished landscape painting.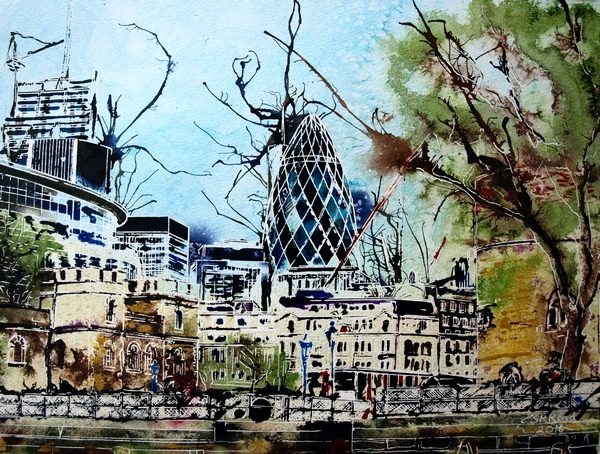 Save
Save
Save
Save
Save
Save
Save
Save