Can a gift change your life?
Some gifts have a value far more than money, but we don't always know it at the time. Now that Christmas has passed and the gifts we've received are being used, consumed, played with etc. We may treasure them or use them routinely even thoughtlessly or forget about them completely.
I wonder how many of them will change our lives in any way.
Christmas 1976 I was given a present that I treasured and used at the time. I didn't realise quite how much it was going to shape my life  when it  helped inspire my career as an artist in 2009.
What was it? A maths set, this Math's set.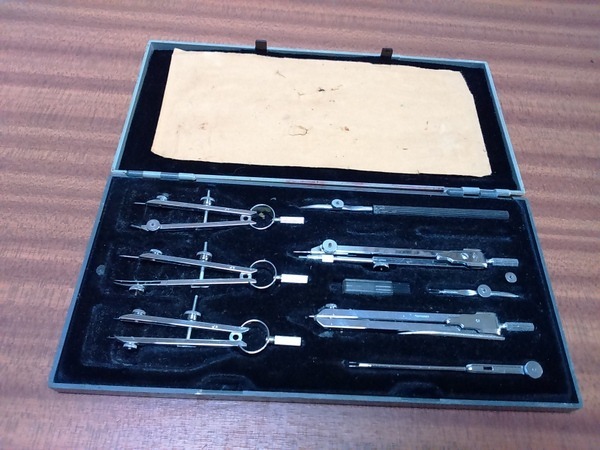 It was, and still is a treasured possession.
I carted it across Manchester daily on my journey to school and later 6th Form. It was used in countless Maths and art lessons. And a few others besides. I took it to Oxford and used it less frequently there. Then it was confined to a cupboard. Occasionally used for an art or craft project, but largely forgotten.
Forgotten that is until one day I decided to play around with texture.
I hadn't really used masking fluid, but I thought the masking fluid might be my best option. As anyone will tell you, masking fluid wrecks brushes so I was experimenting with Colour shapers. They worked after a fashion and I saw something I liked in this finished picture.
But the tool wasn't right!
I remembered my ruling pen from my Maths set, and it worked like a charm. (I've since heard several people say they'd heard that ruling pens were a good tool but, at the time, it was a revelation to me!)
It was then but a simple leap to using the compasses and the circle paintings were born. Mark making and patterns quickly followed and, with practice, the style developed.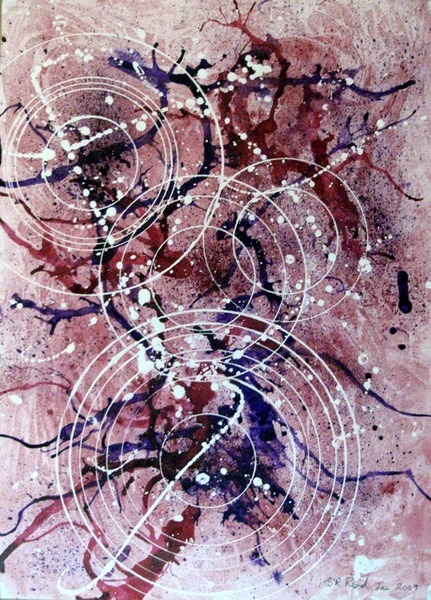 And suddenly I had a direction for my Art!
My confidence grew as I experimented more.  The results were exciting. Around this time I realised art was the way I needed to go. I made the decision that it was now or never. Work started selling, I was being accepted for exhibitions, getting commissions. It's been an uphill battle at times, there have been highs and lows, but it's happening.
And that's how a simple Christmas gift kick started my art career.
Have you been given a gift that changed your life? I'd love to hear about it.
Enjoy this story? Like to hear more about what inspires me and the creations they imspire? You can see paintings from my studio, as soon as they're created.
I'd love to inspire you with my latest creations and news of events.