The Gherkin inspires reaction
Everyone has an opinion , it can be good or bad but I've yet to meet someone who didn't respond. I personally love the Gherkin which is why I draw it so often. I want my art to do the same.
Sometimes, the reaction  it's not the one I'd like.
This particular creation was started for a demonstration to Winslow and District Art Society. I'm always wary demonstrating with an architectural piece, just in case I forget something. I'd started the masking with the intention of finishing it during the demonstration. Unfortunately it was difficult for the audience to see the masking so I jumped straight to the painting phase. I did more at the studio before the revealing stage, when the masking fluid is taken off. You can watch my Gherkin painting emerge from the chaos in the video.
Here is the finished Gherkin painting unmasked.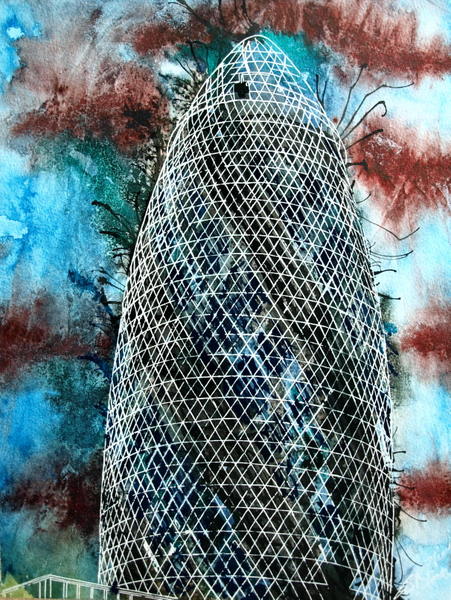 Until a painting's unmasked, I never know how it will look. There is no way to tell what the result will be.
That moment I actually remove the masking is usually a magical transformation.
I'm a little disappointed with this one because it's not how I intended it to look. I planned masking in more detail and I'm regretting my decision to go ahead before I was ready. I may tweak this one, when I've sat on it for a while. I'll share when I do!
Sharing is caring. If you enjoyed this post, please share.