Ever see something and think YEEEEESSSSSS!?
If you've been following me for any length of time you'll know I'm a fan of industrial architecture. The no nonsense approach to buildings that produce pure functionality. I'm not averse to making things look pretty, even when they can't be seen, but there's an honesty to industrial architecture. It's not afraid to admit the need for pipes and wiring or that needs change and parts need replacing.
From the moment the development of the Tate modern was announcedin the old Bankside power station I was intrigued. And to find the Millennium Bridge leads to it, I was ecstatic. Industrial and contemporary architecture combined they were made to be.
There's a phrase that's popular at the moment "Repurposing". What used to be called recycling although I think it's meant to imply a more creative approach. It's not really a new concept, especially when it comes to architecture. Many buildings have been remodelled to make them fit for new purposes.
Has been used since 'Fountain', by Marcel Duchamp. It's a fitting notion, then that the building that houses the  Tate Modern should itself be a repurposed building. Ironically or intentionally perhaps?
As many of the Tate Modern's exhibits are themselves readymades or include found objects.
Travelling to The Tate Modern on foot as a tourist via St Paul's Tube station is a popular route as you approach via the Millennium Bridge. It is a stunning approach with the dark building contrasting with the shiny surfaces of the bridge.
And what does anyone think when heading for a museum?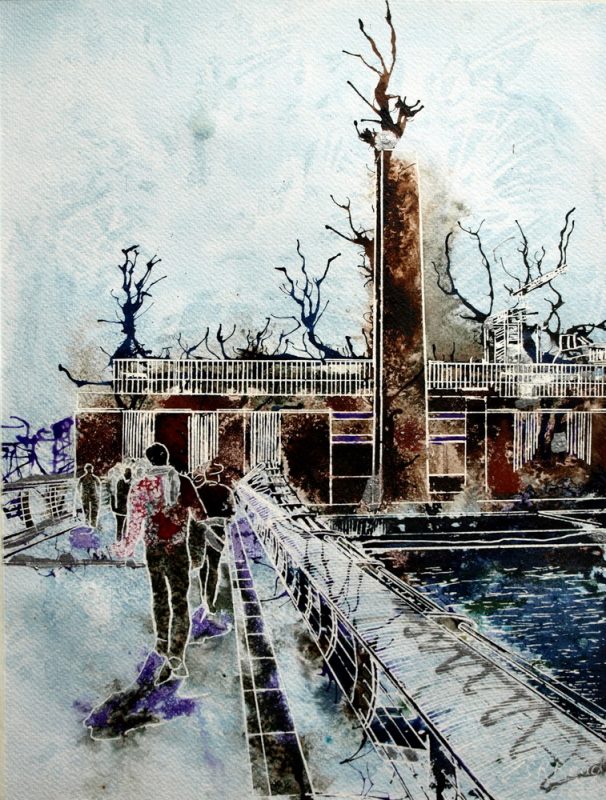 I wonder what's on?
See more London paintings in my portfolio.