There are many tall, distinctive buildings in London, most are known by their function, name of company or location but only a small proportion are given a nickname. The Leadenhall building at 122 Leadenhall Street or The Cheesegrater is one. Only completed in 2014 it's name is established.
This painting was a commission following Bucks Open Studios 2014.
Why commission art?
The commissioning process is not for everyone but it has distinct benefits.
The commissioner finds the artwork they are looking for. In this case she was a local to the Leadenhall area and wanted something that reflects the changes she'd seen.
The artist obviously gets custom but can learn from the process. I'd heard about The Cheesegrater but hadn't been to the area for a while so it required a field trip.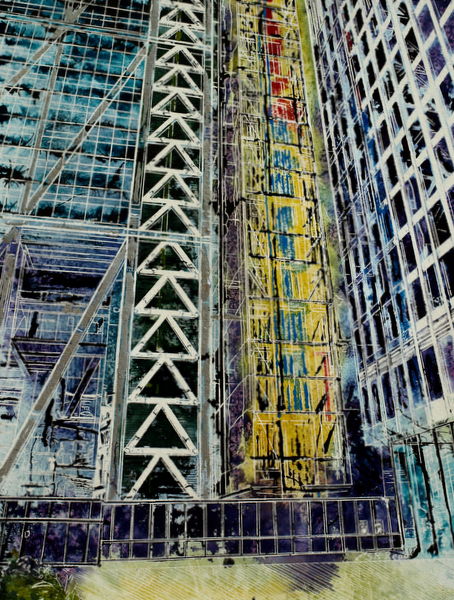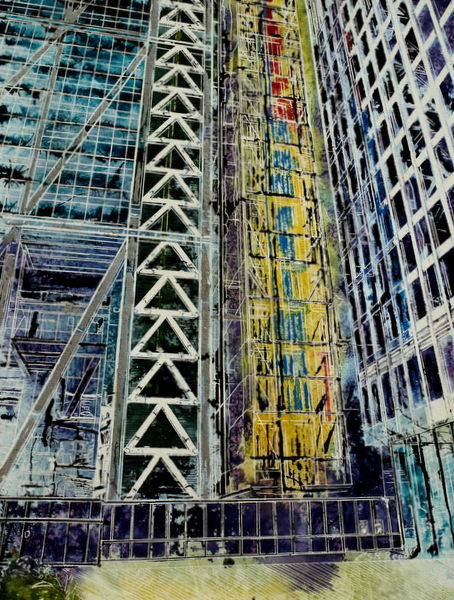 It's often said that architects create work to inspire the artist and this is certainly the case in this instance. The aim was to reflect the height and inventiveness of the new developments.
Deciding on the composition
I took several photographs from various angles and, as is my usual practice, whittled them down to a few and sent them to the customer. With a commission you don't have the same control as when you create the rest of the time, and you have to give the client work that fits in with the initial brief even if you have others you prefer. That can be difficult guage as the client may not be absolutely sure what they want.
It can be a delicate stage with negotiation required. However, in this case, I was relieved that she chose one of my "A" list choices. Even then some modification was required to remove a figure in the foreground.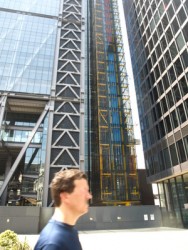 As you can see from the original picture. (I've distorted the face deliberately)
All this happens before a single mark is made on paper -But that's a post in itself.
Want to know more?
If you'd like to find out more about commissioning an original painting then take a look at my commissions page or have a look at some of my past commissions.