You nearly didn't get to see this painting.
I took the work in progress to The Love Art Fair so that I could finish it during quiet periods. I find it's a good stage to work with when I'm showing people how I work. As it's very tactile , it requires a different type of concentration which stands interruption well.
After finishing  the picture late on Saturday, I left it propped up overnight intending to photograph it the next day when the light was better.
I wasn't due in until 1pm on Sunday and when I arrived…
It was gone, it had already sold!
So, I now have a new record for shortest time between completing a picture and selling it.
Fortunately the lovely people who bought it were happy for me to come over and take a picture. Which meant I was also able to meet them as well.
So here's the finished painting.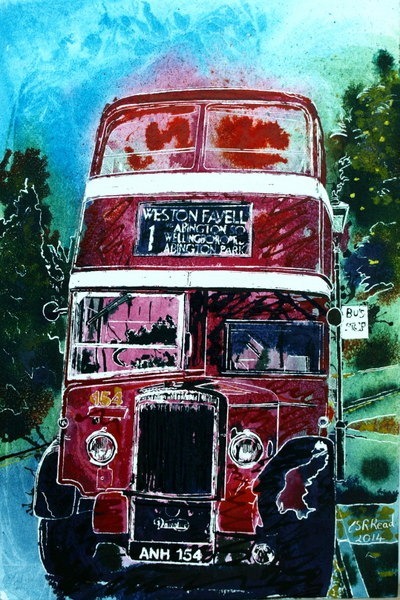 ©2014 – Cathy Read – Bus Selfie – Watercolour and Acrylic on paper on board -30 x 45 cm
I now find myself in a very surreal situation, with no works in progress. I've said before that I try and start something new before finishing an older piece.
Let's hope I don't start procrastinating…
I've just treated a big canvas!
This painting is now sold but if you're interested in something similar, you might like to consider commissioning a painting?