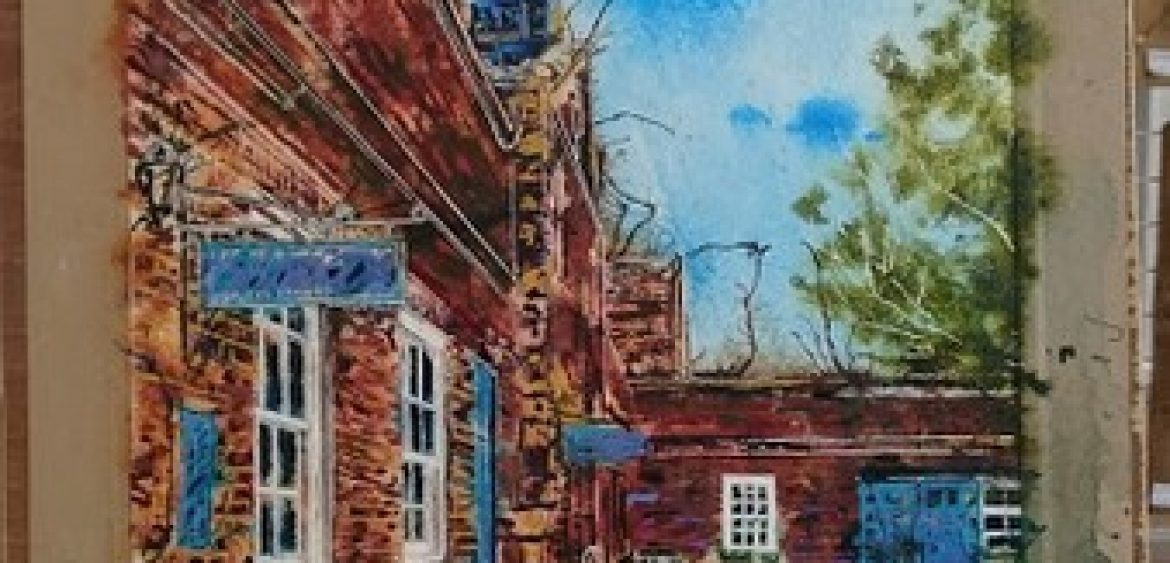 Architecture Painting on location can be trying. After another week of architecture painting outside I thought I'd share some of my challenges. The Weather : Fortunately the elements have been relatively kind. The wind only require me to tie down the easel and spread the salt further than intended. Perspective and neck aches: This is the second painting of the courtyard and I wanted to use a forced angle perspective of the Courtyard Clock Tower. It took some time to get the perspective right and my neck ached a bit by the time I finished. The sun is ALWAYS in the wrong place. It moves, gets in your eyes, disappears so you freeze or comes out in full force so you bake. This time temperatures have been much cooler so it's been much better to paint in. Here it is after the drawing was complete and the masking underway. Curious people keep checking out the work. Actually, I don't mind this, in fact I quite like it. Unexpected things happen. I ended up using far more salt than planned as a "sprinkle" ended up as a "tip". (See the point about the weather.) The early painting Don't disturb the neighbours. […]
Want to know more?
If you'd like an informal chat about any of my work, where I get my inspiration, commissions or workshops, then please get in touch on -
+44 (0) 7818240116 or email me
The Milton Keynes Project


Contact Information
All images and text are ©2018 Cathy S R Read. The artist asserts her moral rights.