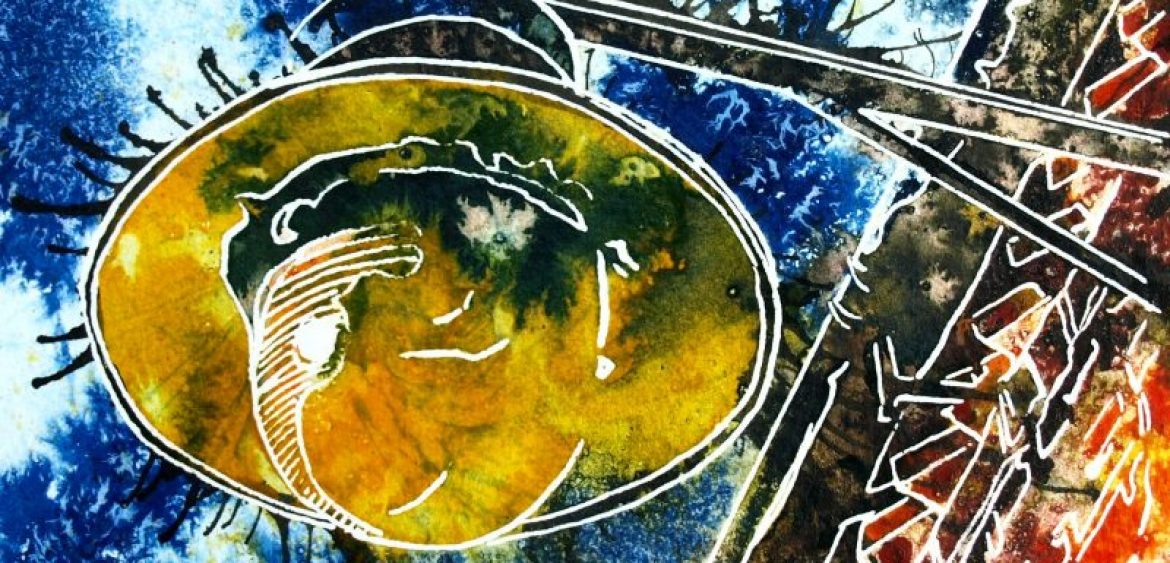 Part of the 49/50 Painting Challenge. Find out how it began here. Presenting #10 – Wall Street Light painting This week's painting has been a challenge. Not because it's been complicated, quite the opposite in fact. This week has been hectic due to family birthdays, end of term shenanigans and all that. Finding the time to just get on and do it. Well, I eventually got there. Here's 10 Wall Street Light as a work in progress. And as a finished piece… There's a little more tidying up to do and I need to take a better photo once that's done. This one was taken with my phone and no tripod. I have to admit, I've enjoyed the lack of lines on this one. Allows the paint to more freely after the restrictions of the Juliet Balcony painting, forming some beautiful bloom patterns. Less is often more, as they say. The title is proving a challenge… I quite like 10 Wall Street Light, it provokes images. Even if it is of a different Wall Street and not the one in a quaint little town in the far reaches of rural Buckinghamshire. I may have to ponder it awhile, unless […]
Less than a week to go! And work for the exhibition has taken over! But, even committee members must focus on your own work and create something… eventually! Although, it's not unknown for committee members to submit work that's still wet! Interpretation of the theme is the sticking point! Our theme is light. So many potential ideas… But which to choose? Where to start? Sometimes simple is best! This light is one of those visible on the Terrace outside the Houses of Parliament. There are 2 lights on each post. One historical, elaborately constructed and brilliant. The other smaller, simpler, dimmer… An afterthought! Added sometime after the initial light was erected. But within these two simple lights I see a metaphor for political power. They could be two main parties vying for supremacy… But only one dominates. Or maybe the lights are the conflicting power within a Coalition government! Imbalanced due to the different party sizes. One party gets a chance to shine more brilliantly! But that brilliance may switch to the newer light! Now which should it be?
Want to know more?
If you'd like an informal chat about any of my work, where I get my inspiration, commissions or workshops, then please get in touch on -
+44 (0) 7818240116 or email me
The Milton Keynes Project


Contact Information
All images and text are ©2018 Cathy S R Read. The artist asserts her moral rights.