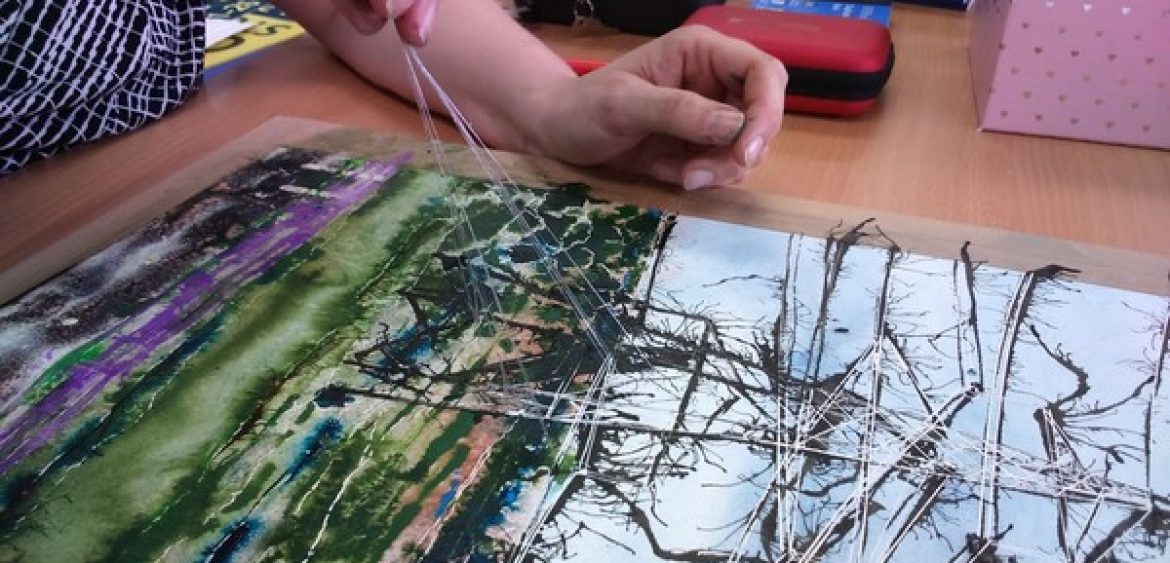 Plein Air Sketching #2 We're already a week into Bucks open Studios and it's been busy. On the first day I was at Green Dragon and decided to do some Plein Air Sketching outside our venue. The weather was perfect, a bit dull but warm with the sun making the odd appearance. This is the view. Inspiring isn't it! *sarcastic look* Not quite my choice, fairly flat but with a lovely trail of pylons. The cars might have been interesting, if I had limitless time. I decided to simplify, as who knows how long they would remain. This is the sketch taking shape, aided by a few coffees. It's interesting to hear people's reactions to pylons, with many feeling they spoiled the view. Sketching was slow going with several corrections before I was happy with the layout. Then the paints came out. Before leaving it to dry. Instead of leaving it overnight, I used kitchen towel to blot away the excess ink and speed up the drying time. Here's the masking fluid being taken off And finally the finished painting. The Green Dragon exhibition will be finishing on Sunday 19th June (Today) but the rest of the open studios […]
Want to know more?
If you'd like an informal chat about any of my work, where I get my inspiration, commissions or workshops, then please get in touch on -
+44 (0) 7818240116 or email me
The Milton Keynes Project


Contact Information
All images and text are ©2018 Cathy S R Read. The artist asserts her moral rights.