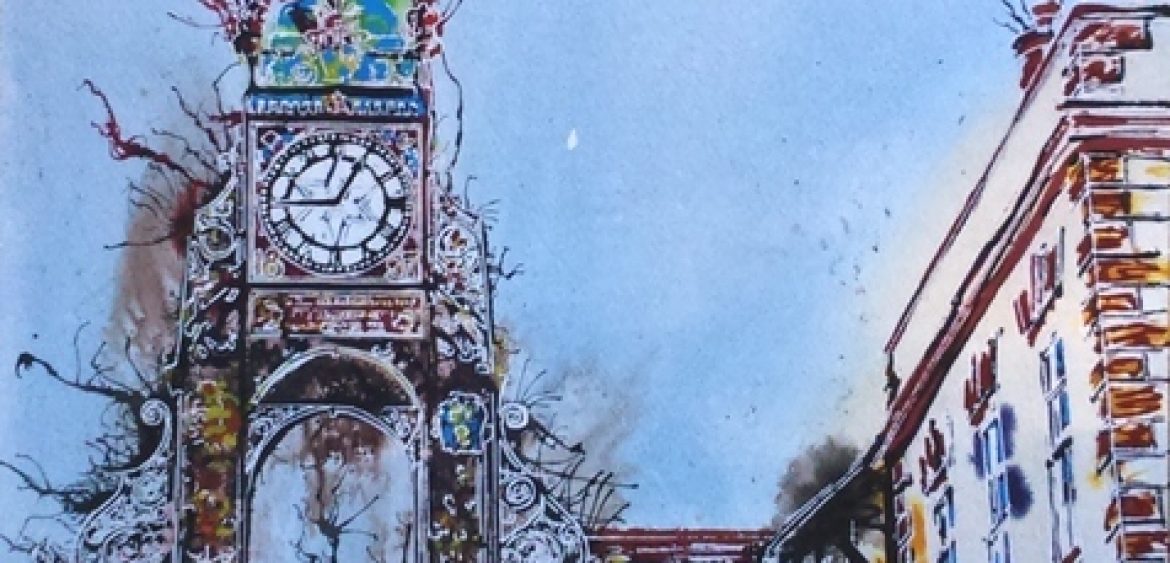 After hectic period, returning back to the studio is always a joy. The change of pace, the opportunity to catch my breath and create something new. Sometimes there are dramas, Like having no water for a day, either due to the pipes freezing or, more likely, due to the builders working on the new farmhouse. Still not sure which. I can say that using watercolour paints with no water is …interesting. I hadn't really needed the heating on until then but It's now nice an warm, very handy when you're painting. I find I drop things if my hands are too cold. Plus the paintings take forever to dry. First to be completed is this painting of Chester Clock tower, which was started way back in November. I wanted something local for my demonstrations at Chester Art Fair, and ended up working on it at Green Dragon as well. So it's been a while. Here it is in the early painting stage. And with a little more done on the buildings. And finally, the finished painting. I'm pleased with the result, although part of me wishes I'd done the picture larger. It's all quiet now until January, exhibition wise, more […]
Want to know more?
If you'd like an informal chat about any of my work, where I get my inspiration, commissions or workshops, then please get in touch on -
+44 (0) 7818240116 or email me
The Milton Keynes Project

Never miss out on another blog post subscribe here

Top posts
Archives
Contact Information
All images and text are ©2018 Cathy S R Read. The artist asserts her moral rights.